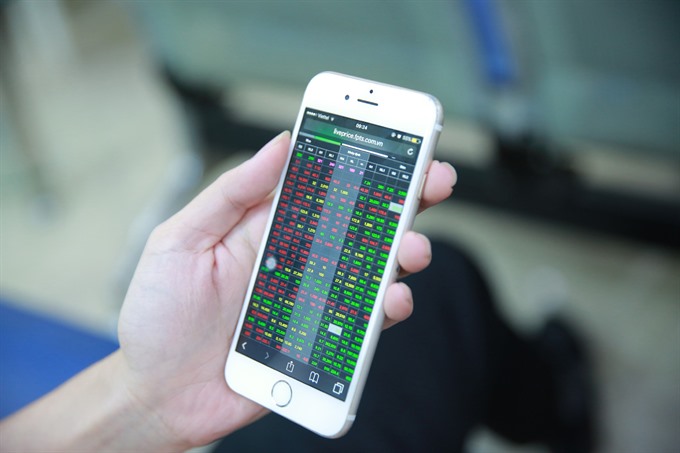 An investor checks out stock prices on his own cellphone. Local stocks were up on Thursday after worries were eased towards the trade tension between China and the US. — VNS Photo Trương Vị
Viet Nam News
HÀ NỘI — Vietnamese shares ended Thursday on a positive note following the improvement of global markets as trade war fears were soothed by news of potential talks between China and the US.
The benchmark VN Index on the HCM Stock Exchange gained 0.60 per cent to close at 898.51 points and recovered from a three-day loss of 2.65 per cent.
The HNX Index on the Hà Nội Stock Exchange rose 1.94 per cent to end at 100.43 points. It fell 3 per cent on Wednesday.
The Vietnamese stock market was supported by widespread good investor confidence on global markets after reports emerged that China and the US may start discussions to resolve their trade dispute.
The local market was covered by gaining stocks, which outnumbered declining stocks by 236 to 181.
Better investor confidence lifted 13 of the 20 sectors with the best-performing stocks located in the banking-financial, rubber, agriculture and ICT industries, data on vietstock.vn showed.
The blue-chip VN30 Index edged up 0.31 per cent to finish at 883.87 points with 19 of the 30 largest stocks by market capitalisation in the VN30 basket gaining.
The strongest gainers among those blue chips included Vietinbank (CTG), MBBank (MBB), Bank for Investment and Development of Việt Nam (BID), Vietcombank (VCB) and FLC Faros Construction Corp (ROS), which moved up at least 2 per cent.
Securities firms also had a good session as large-cap stocks in the sector saw their prices rise, such as Bảo Việt Securities (BVS), Sài Gòn-Hà Nội Securities (SHS), BIDV Securities (BSI) and VNDirect Securities (VND).
Despite positive signals from the stock market, Sài Gòn-Hà Nội Securities Company (SHS) remained pessimistic about the short-term movement of the market.
"Trading liquidity touched the lowest level in the last one-and-a-half years" as investors continued to switch their attention to the derivatives market, SHS said in its daily report.
More than 139.5 million shares were traded on the two local exchanges, worth VNĐ2.73 trillion (US$121.3 million).
The trading figures on Thursday were down 29 per cent in volume and 37 per cent in value compared to the previous session.
"Cash flow remained weak, proving it is one of the most difficult times for the market, and investors are surely disappointed with the current market conditions," SHS said.
Foreign investors on Thursday ended as net sellers, posting VNĐ62.7 billion worth of net sell value, compared to a net buy value of VNĐ107.8 billion made in the previous session.
"The stock market is consolidating with depleting liquidity to build up a strong fundamental range so that it can climb back at the end of the current volatile period," SHS said.
Therefore, the VN Index was expected to grow slightly on Friday to strengthen its position at the 900-point level with low liquidity, SHS forecast. — VNS
Nguồn: vietnamnews.vn