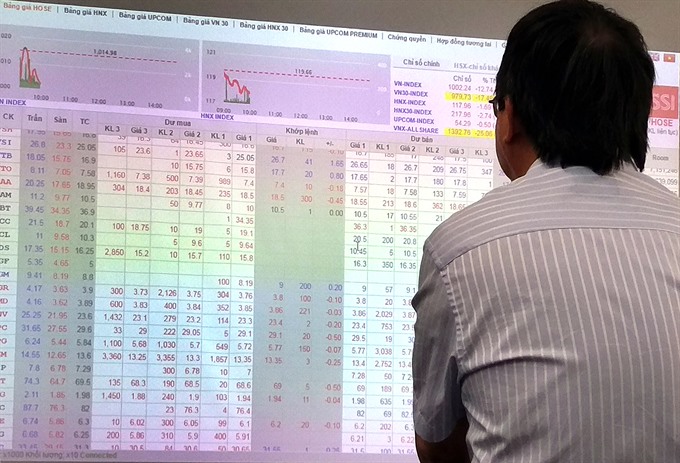 An investor sits in front of trading screens at Saigon Securities Inc's branch office in Hà Nội. — VNS Photo Đoàn Tùng
Viet Nam News
HÀ NỘI — A large-scale sell-off sank Vietnamese shares on Wednesday after China-US trade tensions increased and dampened investor confidence in the world's economic prospects.
The benchmark VN-Index lost 1.97 per cent to close at 893.16 points, narrowing its decline from as much as 2.85 per cent during the day.
The southern market index has totalled a three-day fall of 2.65 per cent.
The HNX Index on the Hà Nội Stock Exchange plunged 3.05 per cent to end at 98.52 points. It had fallen as much as 4.34 per cent in the session.
The northern market index had rallied total 5.42 per cent in the previous three consecutive sessions.
More than 197 million shares were traded on the two local exchanges, worth VNĐ4.33 trillion (US$192.6 million).
The market breadth was negative with declining stocks dominating gainers by 337 to 88.
Foreign investors concluded the session as net buyers, posting VNĐ108 billion worth of net buy value. They were net sellers on Tuesday with VNĐ73.6 billion worth of net selling.
"The latest update on China-US trade tensions worsened overall confidence in the world's stocks markets, triggering massive sell-offs, and the Vietnamese market was also included in that trend," Sài Gòn-Hà Nội Securities Company (SHS) said in its daily report.
On Tuesday, the US announced it would impose $200 billion worth of tariffs on Chinese imports, which could take effect on August 30, as a response to China's $34 billion tariffs on US products made last weekend.
"The latest development changed investor sentiment dramatically," SHS said. "Investors turned from being quiet to hold on to the 900-point threshold to increasing their selling in local stocks."
Negative investor confidence sent 17 of the 20 industry indices down, according to data on vietstock.vn, with brokerage, banking, energy, retail and construction sectors being among the worst-performing.
Widespread strong selling also undermined the blue-chip VN30 Index, which dropped 1.87 per cent to 881.14 points at the end of the day.
Of the 30 largest stocks by market capitalisation in the VN30 basket, 26 stocks ended in the negative territory including Bank for Investment and Development of Việt Nam (BID), Vietinbank (CTG), Saigon Securities Inc (SSI), MBBank (MBB) and Bình Minh Plastic JSC (BMP).
Those five company shares plummeted at least 5.4 per cent. BID recorded the worst decline, ending the session down 6.6 per cent.
The dominance of the selling side made the VN-Index retreat from its 900-point landmark, while bottom-fishing transactions and net-buy foreign investors were not good enough to pick up the overall market sentiment, SHS added.
"It will take a long time for big money to return and lift the stock market" given its current conditions, SHS said, adding that the market would suffer from strong volatility in next sessions if the two indices were unable to climb back to the 900-point and 100-point levels soon. — VNS
Nguồn: vietnamnews.vn